Find success in the Valley
Venture Valley is a multiplayer business-building game where you pit your strategy and savvy against friends and competitors. Build your empire from scratch, starting with a dog walking business. Then flip that into a successful mini-golf course, pizza parlor, drone delivery service, robot factory, or any other thrilling company available in Venture Valley. Turn up the heat with a card playing system that lets you slam down Adversity cards – leaving your opponents scrambling to deal with their effects – or use Advantage cards to enhance your own enterprises! Earn money and reinvest in your hustle by upgrading your HQ to show everyone who really runs the Valley.
Build Your Business
Welcome to the Valley
Everyone starts small in Venture Valley, so don't sweat it. You can take a simple dog walking business, add some employees, a few smart business choices… and bingo! You'll be wrestling llamas, alligators, and other nutty creatures while building yourself a small fortune! Then, move on to three vibrant cities and sixteen whimsical businesses as you conquer the Valley!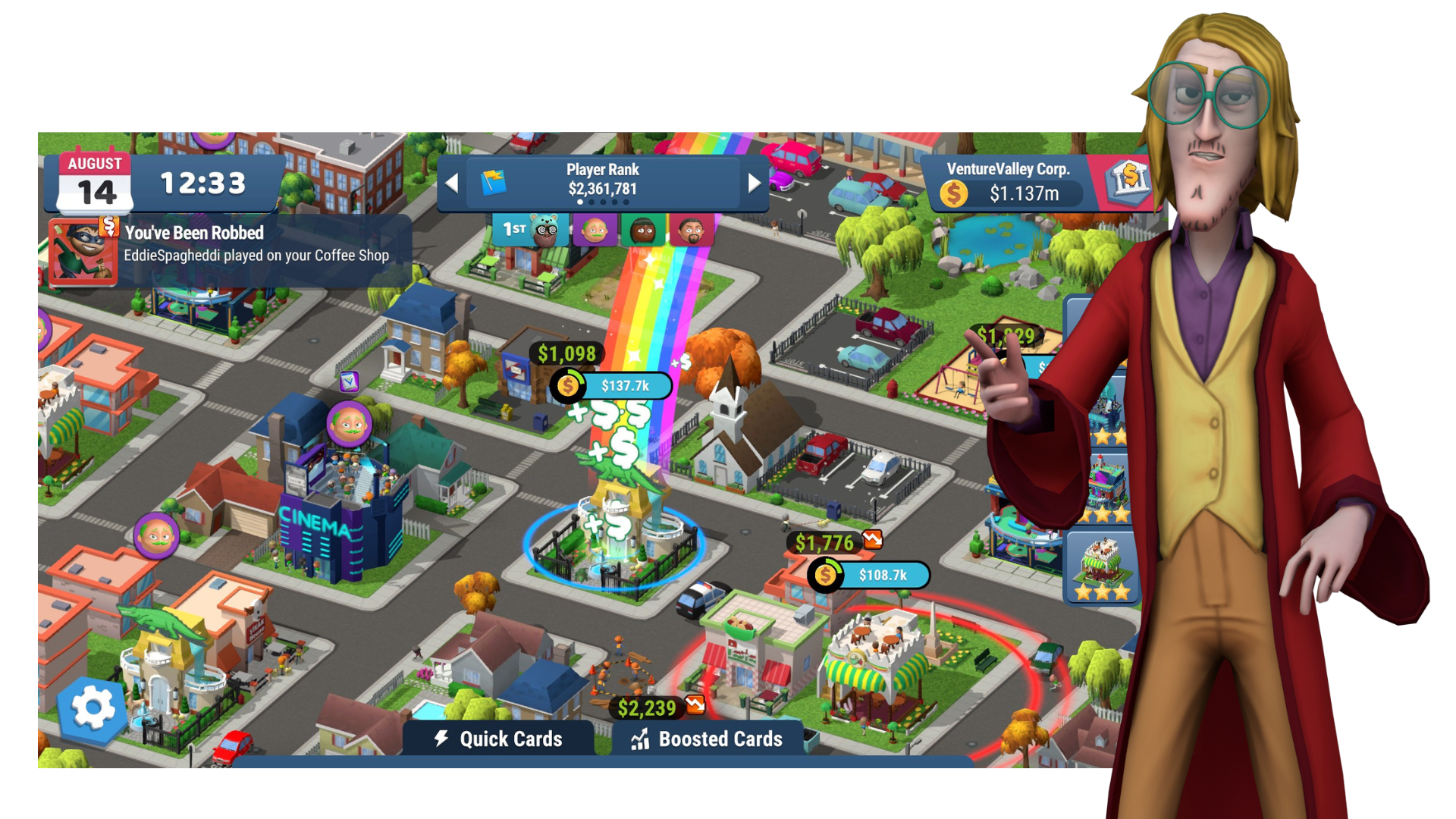 PLAY WITH FRIENDS
Compete against others or on teams
Flex your business prowess and challenge players to a thrilling 1v5 game. Once you have dominated solo play, turn up the intensity and play on teams against the greatest Venture Valley capitalists. Venture Valley brings you many ways to play – with your friends in custom lobbies, with random players, and in esports competitions. Plus, you can also watch a heated match between rivals in spectator mode.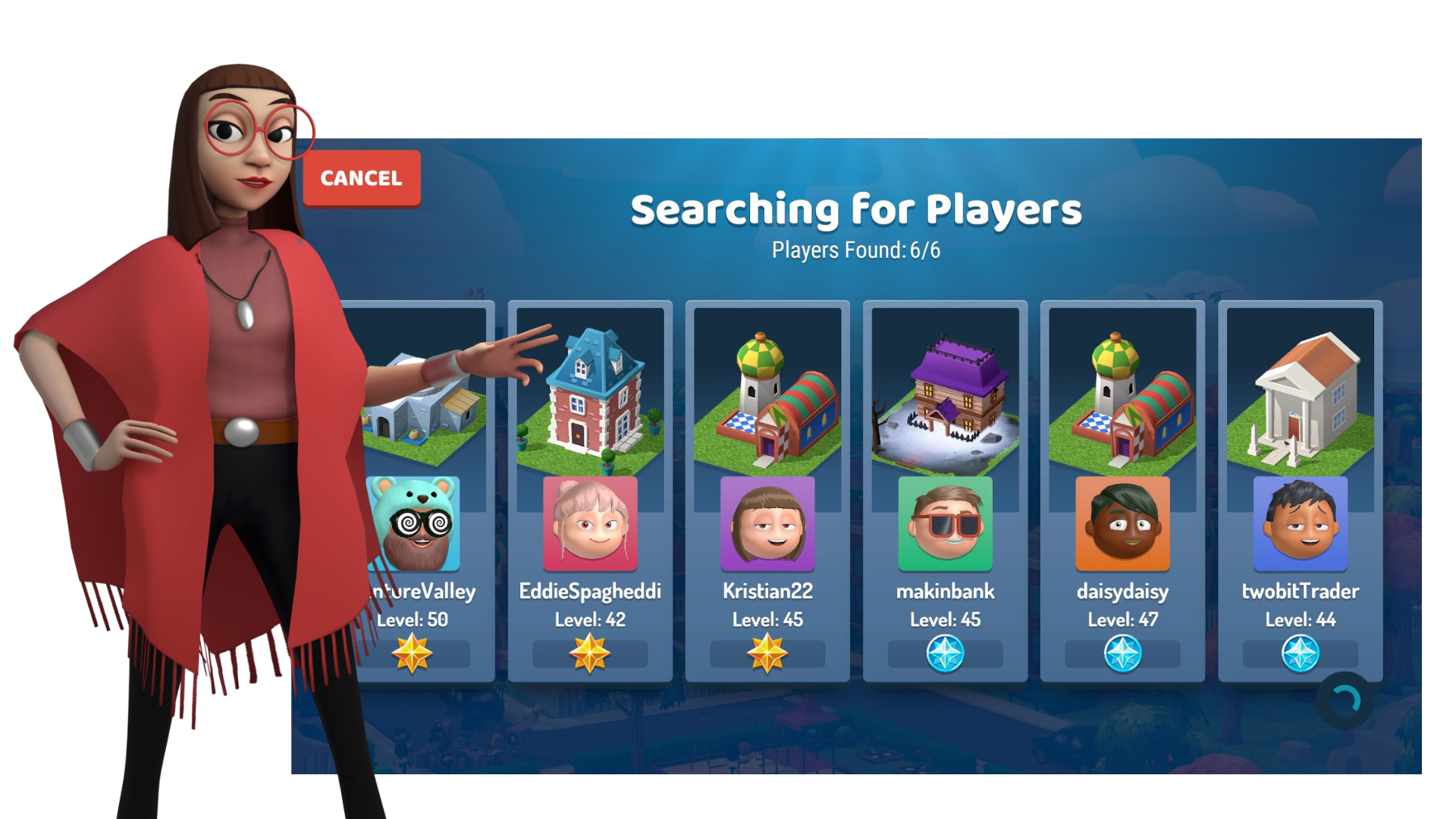 Derail Your Opponent
Use card-playing to ace the game!
Venture Valley's unique card system lets you throw challenging obstacles at your opponent, or give your own businesses a boost. You may decide to play a card that scares away your opponent's customers with a bug infestation, or increase your own traffic with a celebrity endorsement. Every card is unique and ensures that no game is the same. Watch cards go into effect with extraordinary animations that light up the screen and bring the city to life.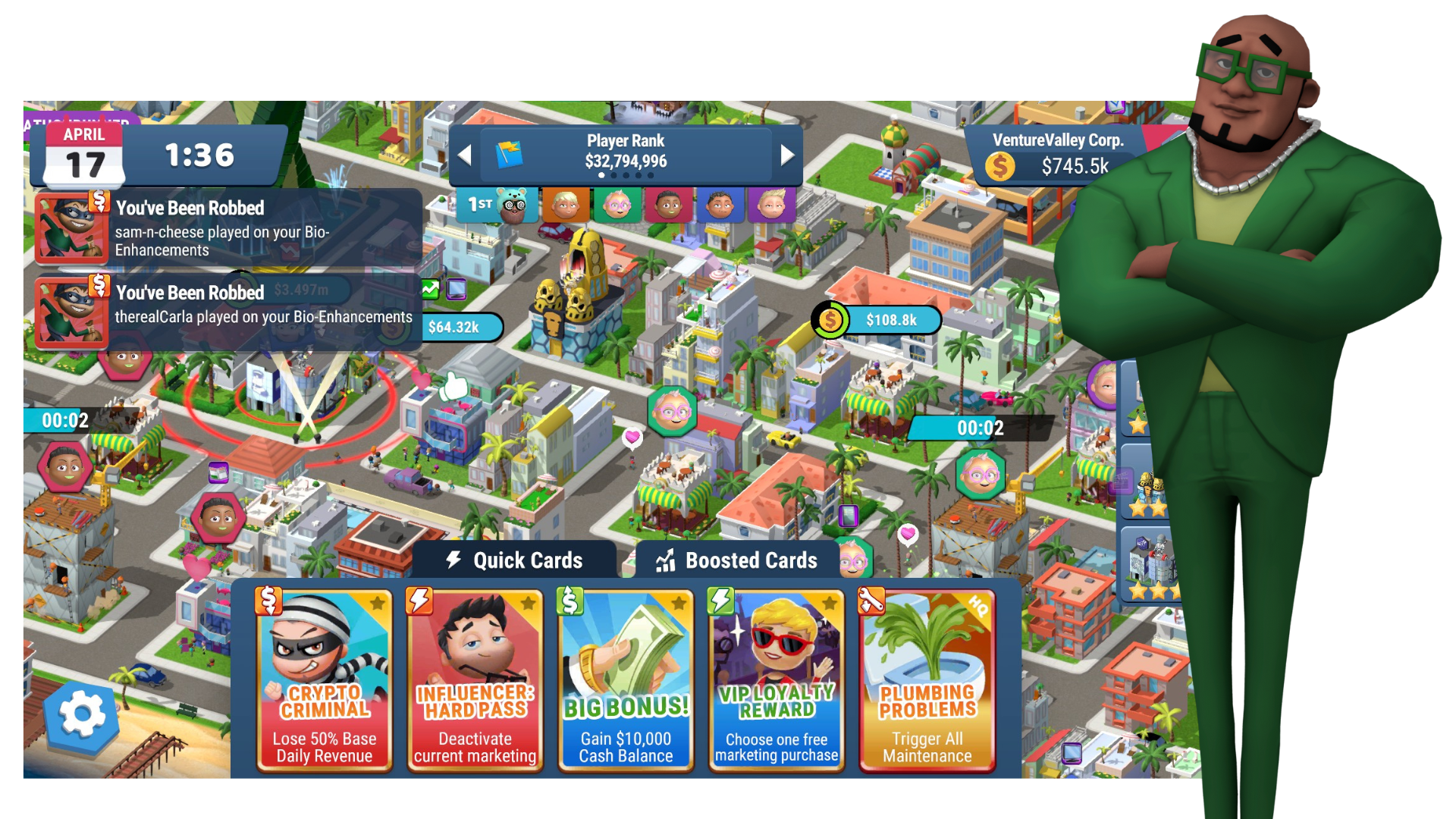 Expand Your empire
Gain real life skills as you build businesses and buy new ones
Travel to three vibrant cities in Venture Valley and take on elaborate challenges to sharpen your business skills. As you continue to progress you will unlock new and breathtaking enterprises, which can each be upgraded to become even more impressive. You can fund these new endeavours with your accumulated revenue or take out a loan to get building right away. The further you go, the more elaborate businesses you can own and operate.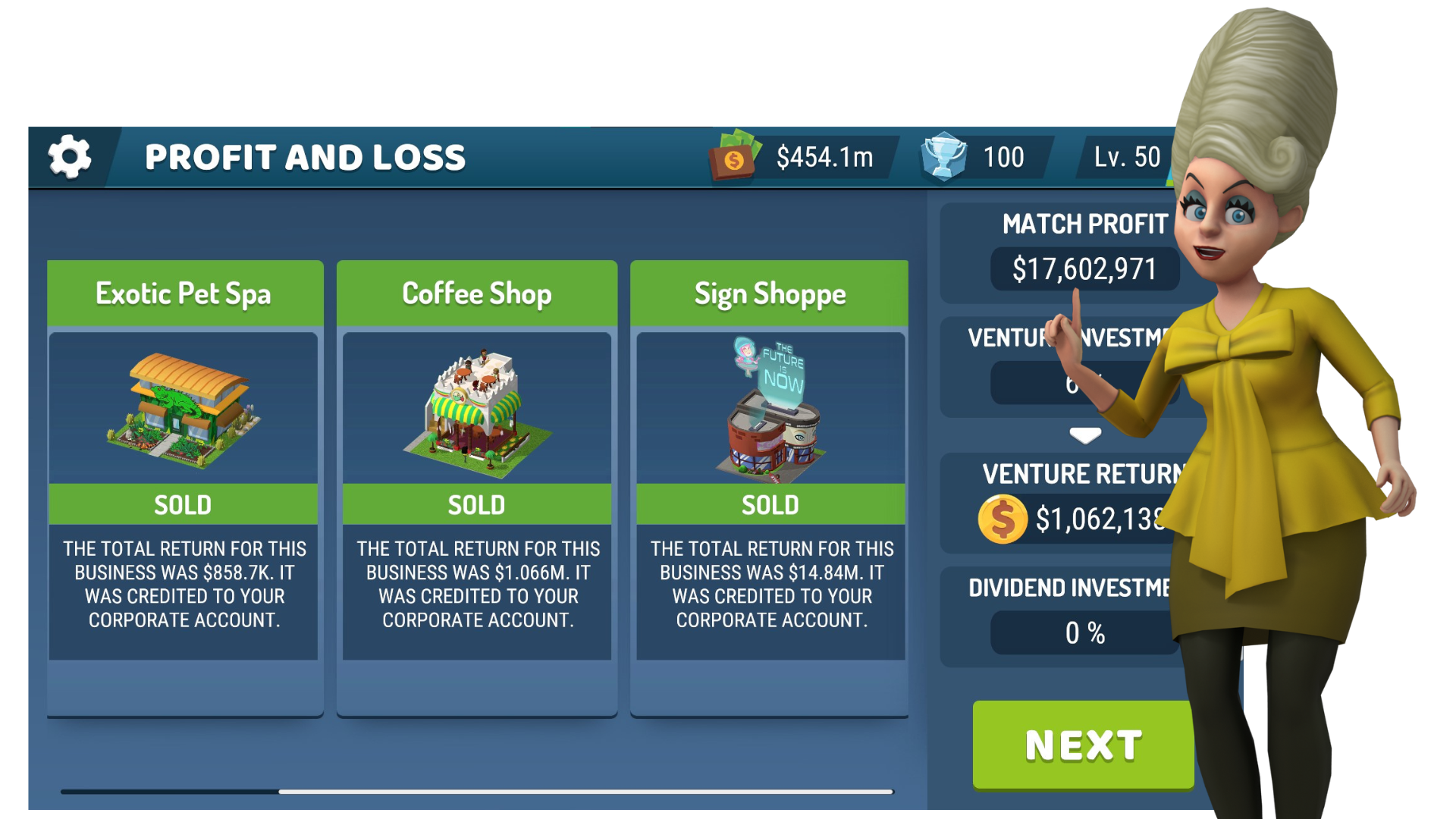 Win Real World Prizes
A game that really pays off
You may have started walking little dogs in Mapleburg, but you'll be running with the big dogs now! Claim victory in the Palms. No micro transactions, no subscriptions, no ads – just opportunities to gain skills and win prizes!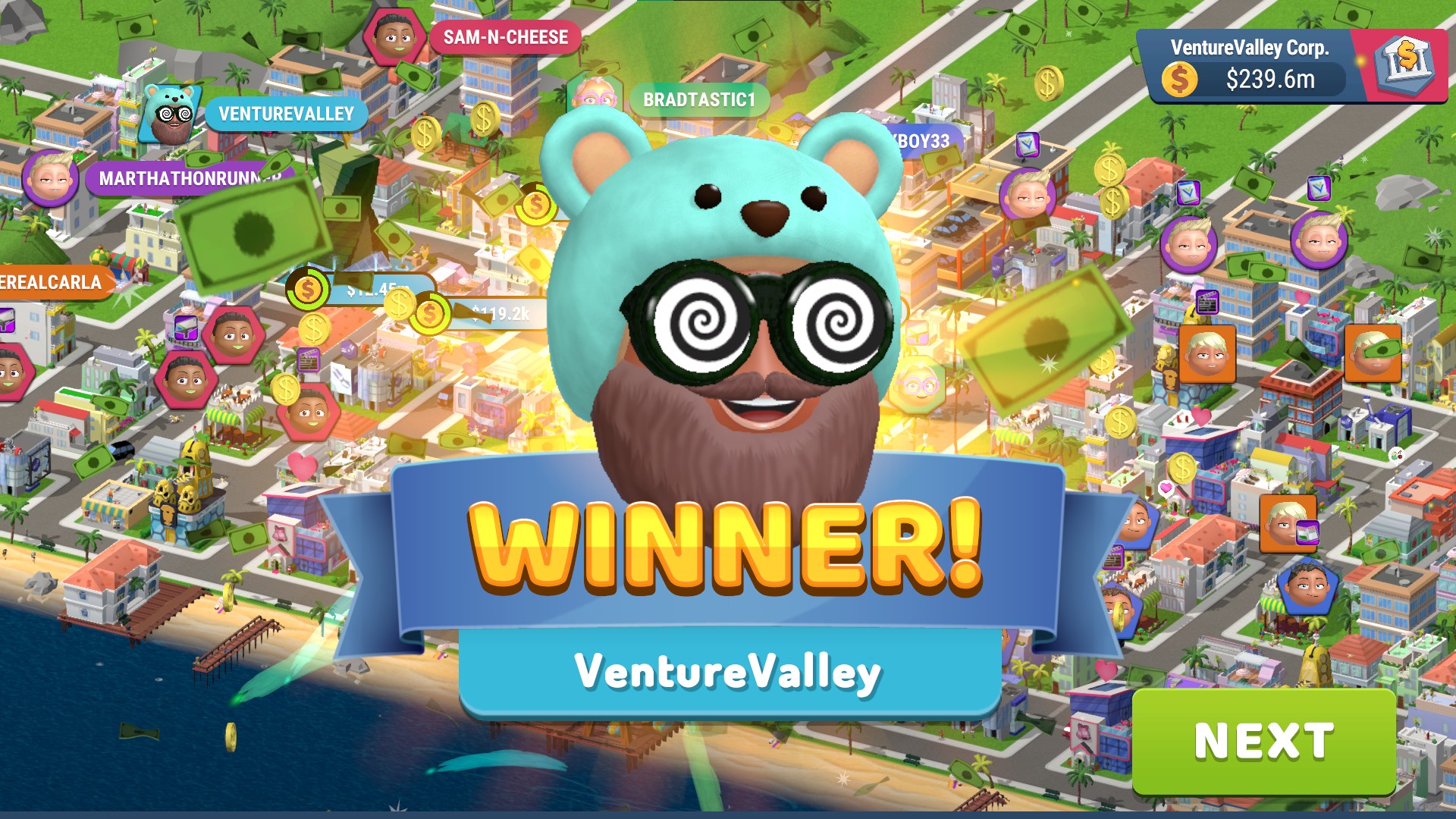 Entrepreneurs start Venture Valley with a simple dog-walking business. As they progress, they will unlock new business opportunities such as mini-golf, a pizza parlor, drone delivery service, robot factory, and more. Players will face numerous challenges in the form of goals which they will compete with other entrepreneurs to the lead-in.
Through play, entrepreneurs develop an understanding of basic business skills as they apply the business concepts they've learned to see how their choices affect their businesses. Players learn about cause and effect on such things as pricing, wages, advertising, research and development, operational maintenance, and product quality. In addition, they learn about both the cost and benefit of taking out business loans.
In Venture Valley, business builders encounter many types of opportunities, unexpected situations, and adverse situations in the form of "Boost" and "Adversity" cards. These cards confront players with tactical decisions on whether to use them for their own benefit or impact an opponent to slow down their progress. The red Adversity cards can trigger an audit or labor strike, while blue Boost cards bring benefits such as celebrity endorsements or sales increases.
Intensity is high in match-based competitions as budding entrepreneurs need to make quick strategic and tactical decisions to achieve match goals, while multitasking between several businesses and reacting to events from "Boost" or "Adversity" cards. Players grow their business and revenues to reach the ultimate goal of leading in the leaderboards at the end of the game.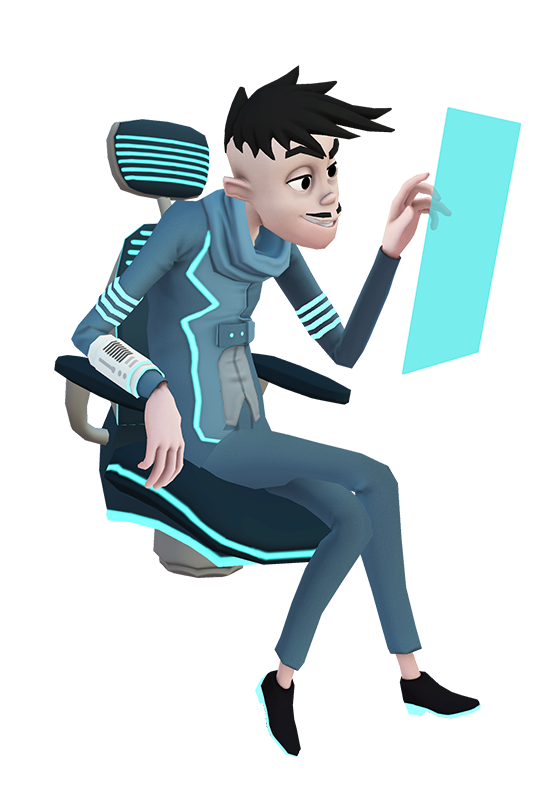 4 Game Maps
Entrepreneurs begin their adventure in Fortune Springs, where they learn the basics of the game before heading onto Mapleburgs, Brickyard and finally The Palms, where the real action begins. As they gain experience and complete map challenges and business battles, they unlock the next map and can upgrade to bigger and better businesses.
2 GamePlay Modes:
Solo Mode – Entrepreneurs compete to lead in several goals, fighting off stiff business adversity along the way. Each victory brings you one step closer to unlocking new businesses, upgrades, HQ's, levels, and cities.
Multiplayer Mode – Play in an online multiplayer mode, pitting your business savvy against friends or other real-life budding entrepreneurs. Jump into a quick game or set up fully customizable matches.
Business Acumen
Entrepreneurs can immediately see the impact of their choices as they learn to price products effectively, offer compelling services, maintain happy customers, and pay their employees well. Played right, players can unlock new potential businesses and levels while fighting off the competition.
Esports Enabled
Entrepreneurs can challenge each other in online solo or team competitions. Venture Valley brings the full esports experience with future tournaments being planned.
Mentors
Charismatic Venture Valley Mentors share information on how the game works, explain what financial terms and concepts mean, offer encouragement and give challenges to up-and-coming entrepreneurs.
Want to Know More?
Sign up for more information: