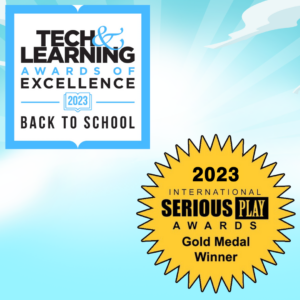 BURBANK, Calif., Oct. 12, 2023 /PRNewswire/ — Winners!  The Venture Valley game team is excited to announce that our groundbreaking game, Venture Valley, has received winning recognition from the Serious Play Awards and the Tech & Learning Awards. Additionally, Venture Valley was a finalist in this summer's GEE! Award in the 'Informal Learning' category and came in second place in the 11th International Educational Games Competition at the 17th European Conference on Games Based Learning (ECGBL23).
Serious Play 'Gold' Award for K-12 Education: Venture Valley has been honored with the 'Gold' Award in the K-12 Education category by the Serious Play Awards. This recognition highlights the game's exceptional educational value, its ability to captivate and inspire students, and its impact on K-12 learning.
Tech & Learning Award for 'Best Back-to-School Secondary': Venture Valley has been named the 'Best Back-to-School Secondary' solution by Tech & Learning Awards. This prestigious accolade emphasizes Venture Valley's effectiveness as a secondary education tool, particularly in preparing students for their academic journeys.
Venture Valley is a fast-paced business simulation game where players in a risk-free environment take on the highs and lows of being an entrepreneur. Venture Valley is available for free on PC and mobile (iOS and Android) with no in-app purchases or ads. The game was created by the Singleton Foundation for Financial Literacy and Entrepreneurship, a 2023 Innovation Award winner from Jump$tart. These accolades represent a significant acknowledgment of Venture Valley's innovative approach of teaching financial literacy and entrepreneurship through fun and with a medium that that target market understands – video games.
"We couldn't be more proud. Winning these prestigious awards and nominations speaks to the hard work the team has put into making Venture Valley an excellent and engaging way to accomplish the Singleton Foundation for Financial Literacy and Entrepreneurship's mission of encouraging entrepreneurship and making financial competence a reality for everyone," stated the CEO of Singleton Foundation, Shelley Miles. "It is a reflection of our commitment to enhance and foster lifelong learning through innovative approaches."
Venture Valley empowers young adults to build financial and business basics by capturing kids' interest with a competitive esports-style multiplayer play. Players learn real financial and business skills as they grow their business from one small pet-walking enterprise to multiple businesses, including a drone factory, a dating app development firm, a robot manufacturer, and many more. Playing against others provides a fun outlet to compete with friends in positive ways while practicing financial skills and business concepts. Venture Valley also has a single-player campaign of 35 entertaining missions.